When considering refinancing your home loan, it's important to figure in how much your refinancing costs will be. Sometimes, your refinancing costs can be so much you might decide it's not worth refinancing it.
To be exactly how much refinancing will cost you depends on the type of loan you choose, interest rate, your credit rating, which bank and loan amount.
Sometime few of these hidden cost can be negotiated. If you do not ask, you will not get it. For example, if you are going to refinance to the same bank, then you can ask for the waive of processing fees (Small cost). In this article, let's discuss few of the important refinancing cost which could hinder you from taking the new loan.
What are the refinancing cost involved?
There are few fees incurred if you proceed for refinancing of your home loan.
Bank loan processing fees
Stamp duty
Disbursement fees
Legal fees
Property valuation fees
Penalty fees form existing bank (lock in period)
New MRTA cost
Bank loan processing fees, Stamp Duty and Disbursement Fees for Preparing of Loan agreement.
These fees normally are allowed to be financed together with the new housing loan. However, still subject to bank's approval.
Bank loan processing fees
Bank loan processing fees is the cheapest charges among all the fees. It range from RM50 to RM200. Typically is for the account opening and handling fees.
Legal fees
Estimated legal fees calculation as below: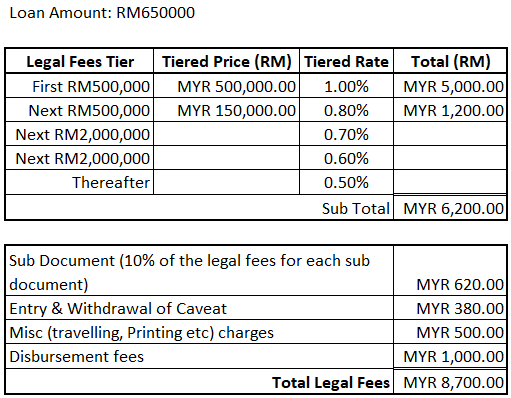 Disbursement fees
Disbursement Fees to be ranging of RM1000-RM1500.00 (rough estimation)
Stamp Duty
Estimated Stamp Duty calculation as below: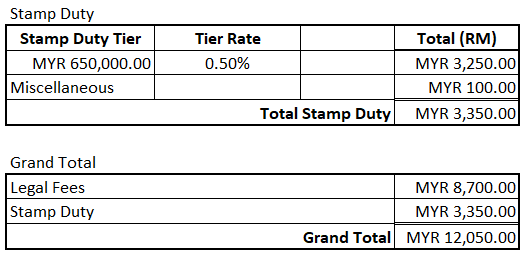 Property Valuation Fees
Here is how valuation fees calculate base on the property you purchased:-
For First RM100K =0.25%
Next residue up to RM2 mil = 0.2%
Next residue up to RM7 mil = 0.167%
Next residue up to RM15 mil = 0.125%
Next residue up to RM50 mil = 0.10%
Next residue up to RM200 mil = 0.067%
Next residue up to RM500 mil = 0.05%
Next residue more than RM500 mil = 0.04%
Minimum Fee : As above, subject to a minimum fee of RM 400 per property.
More details of the valuation fees can be read here.
MRTA Cost
MRTA in long term is called Mortgage Reducing Term Assurance, which is insurance design to protect for the borrower in the event of Death and Total Permanent Disability. MRTA premium are allow to pay by cash or finance with the loan. The MRTA is optional and you may opt out. The MRTA cost typically depending on the borrower age, duration of the loan, gender, occupation, health condition etc.
Penalty fees form existing bank (lock in period)
Normally before proceed you decide to go for refinancing, first step is to check for penalty charges and any processing fees imposed by existing bank. Whether is your loan still within locking period? If it's still within the locking period, you should know what is the penalty fees imposed.
Usually the penalty fees range from 2% to 5%. Normally will be 3% of the loan amount. If the locking period only within next 6 months. You can always start to refinance now, and ask for the future bank to hold the request of redemption statement from existing bank until after the locking period over.
Miscellaneous fees
There are 3 more fees that you need to clear before the refinancing can be complete. Typically below 3 types of fees you should be already paid off as it is part of your monthly commitment.
A) Developer Outstanding Fees
DO NOT owe your developer fees. By still owing developer for any outstanding fees, you will definitely get stuck on your disbursement. The fees should be fully settle as soon. If not, developer will not co-operate on the documentation and the loan will not be able to release.
B) Maintenance Fees
You have to ensure that your outstanding maintenance fees is fully settle. You should not have any arrears.
If not, maintenance office will not release documents requested by bank's lawyer. This will jeopardize your loan process.
C) Payment of Quite Rent and Assessment Fees
The bank or the lawyer will demand for the latest quit rent and assessment receipt to be provided. Bank need to make sure your fees are up to date. This is required by bank, before the disbursement.