We are living in the fast pace world. We have to deal with a lot of things in one day. We might need to take care of few tasks at the same time. For instance, I am an property investor with a day job to take care. Day job will took up most of my brain cell and time. Anything related to the property problems or routine is after the evening time.
Once you have 2 or more rental properties in your portfolio, you will have the following routines tasks to remember:
Check/Collect rental
Send reminder to tenant if not bank in
Pay Maintenance on time
Pay monthly installment on time
Pay others fees like Insurance, assessment fees etc on time
Which Tenancy agreement will due for renewal?
and many more
How can I remember all these event effectively without forgetting? There are two ways:
a) Use your smart phone calendar as reminder
b) Use google calendar to setup Free SMS reminder
Option 1: Use your smart phone calendar as reminder
For those who owned smart phone, this features will be easy to setup and able to link to either Google Calendar, Hotmail Calendar or anything that works fine for you. I do not use this option as not effective for me.
Option 2: Use Google calendar to setup Free SMS reminder
I have been using this option for the past 4 years till now. I find it is very effective for me as Reminder. Basically for this Option, Google will send SMS to your phone as Reminder.
Note that Google Calendar is a FREE product and Google doesn't charge you to receive notifications. Please keep in mind that if you're in the US or Canada, your mobile service provider's standard rate for receiving text messages may apply. If you have any questions about the rate, please contact your service provider for more information.
Check your mobile Carrier List here!
You may follow the following step to Register your mobile phone. To register your mobile phone with Google Calendar, you'll need a verification code.
Open Google Calendar.
Click the settings gear in the top right .
Select Settings.
Open the Mobile Setup tab at the top.
Add your country and phone number.
Click the Send Verification Code button.
Once you get the text message, enter the code you received in the Verification code field and click the Finish setup button.
Click Save.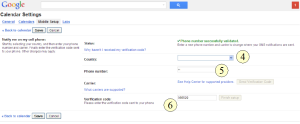 It's possible to register the same mobile phone number for multiple Google Accounts. You can receive all notifications, including SMS, for any calendar in each of your Google Accounts.
Ok,let's start sending text message reminders via online SMS calendar