Before submit application for loan, do you check your credit record? It will be good to know your repayment records first before banks disapprove your loan. This is because banks will not only check your income status but will also check your repayment ability. There are 2 major systems in Malaysia that tracking individual credit records which is CCRIS (Central Credit Reference Information System) and CTOS KL Registration. It is very simple way to check your credit records via CCRIS or CTOS. Here, I will brief you the steps by steps.
How to check your credit records via CCRIS?
CCRIS or known as Central Credit Reference Information System is a computerized database system that created by Bank Negara Malaysia for credit information on about 9 million borrowers in Malaysia. You can get a free instant credit report by just walk in any branches of Bank Negara (Penang, Johor Bahru, Kuala Terengganu, Kota Kinabalu and Kuching). Please remember to bring along your personal NRIC and driving license. It just take few minutes as simple 3 steps below.
Step 1: Walk in Bank Negara and proceed to CCRIS Kiosk at ground floor.
Step 2: At the Kiosk machine, insert your IC then do your thumbprint verification.
Step 3: Get a printout of your credit report with free.
Note: As checking with Bank Negara staff, there is no way to check CCRIS via online.
How to get your CCRIS report via email?
If you are staying out of the BNM branches, you may request your credit report via mail, just complete and send them the application form together with the required documents and fax/send to them. Please note that it may take 2 to 4 weeks to process your request for credit report via mail. The report will be sent to the nearest financial institutions to your home address.
Step 1: Type in BNM CCRIS [e-mail address] in the textbox, then Send SMS to 15888. RM0.20 will be charged
Step 2: Check your inbox or Spam folder, a form is attached.
Step 3: Print out and complete it
How to check your credit records via CTOS?
CTOS is a registered Credit Reporting Agency which privately runs a database maintaining information on legal proceedings against individuals and business entities in Malaysia. CTOS will provide your credit history in order to determine the risk by banks when you apply loan.
Here is the simple steps by steps to get your credit records with free.
Step 1: Log in and register at CTOS website. Then click at "CTOS User ID".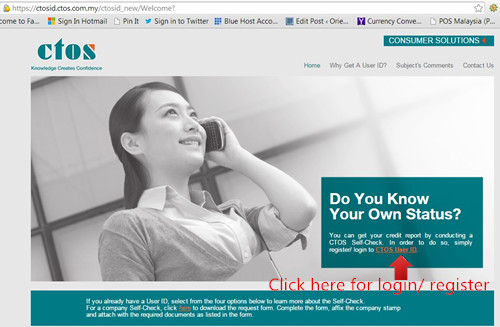 Step 2: Fill up your IC no without spacing at the column then click "Next".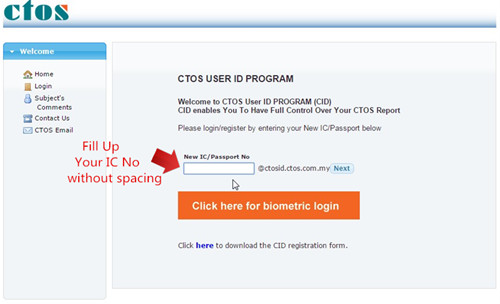 Step 3: Fill up your email, password, confirm password, telco operator (click drop down arrow to choose either Maxis, Digi, Celcom, Umobile or others), mobile phone number and type the words in the image. Then click "Submit".
Step 4: Then you will receive an email from CTOS for request a photocopy of your MyKad (both sides) to CTOS for verification purpose. You may send a photocopy of your MyKad with below methods:-
Scan the MyKad (front and back ) and e-mail to: ctosid@ctos.com.my
Take the photo of the MyKad ( front and back) and send via MMS to 019-201 6396, 017-337 6396, 019-673 6396
Post the photocopy of the MyKad ( front and back) to CTOS office
For CTOS verification process will take approximately 24 working hours.
Step 5: After 24 hours, you will receive an update via email about activation of your CTOS ID. Then login back the CTOS website at  http://ctosid.ctos.com.my and fill up your CTOS User ID & password.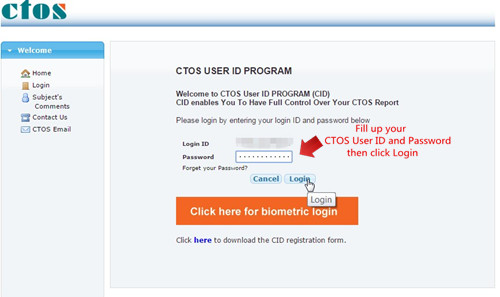 Step 6: At Selfcheck section, click "Do Self Check".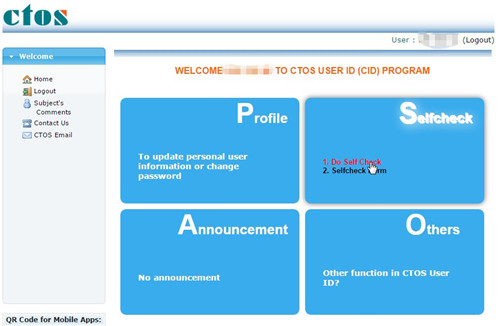 Step 7: Read through the explanation and statutory notification, then click "Do Self Check Report" at the bottom.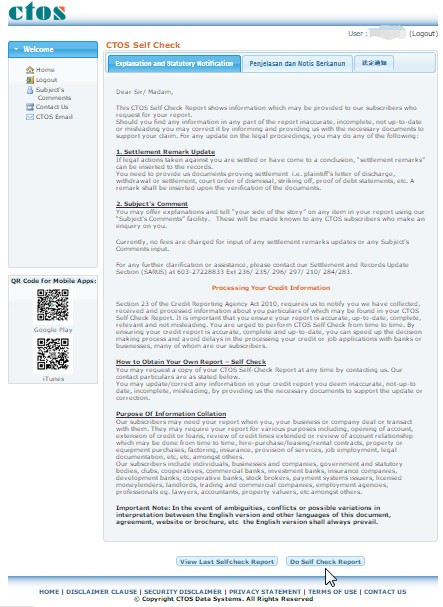 Step 8: Fill up your password again at the acknowledgement and verification page, then click "Submit CTOS Self Check".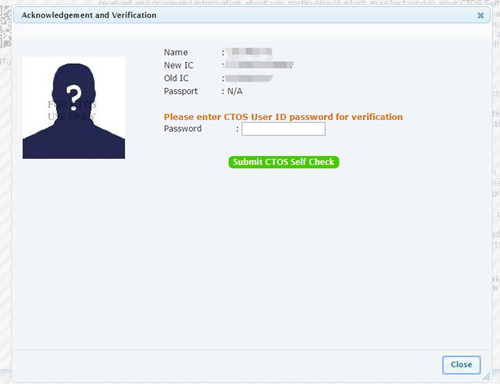 Step 9: You will receive an email about the CTOS Self Check Report or you can view via your CTOS login page at Selfcheck section > Selfcheck Form.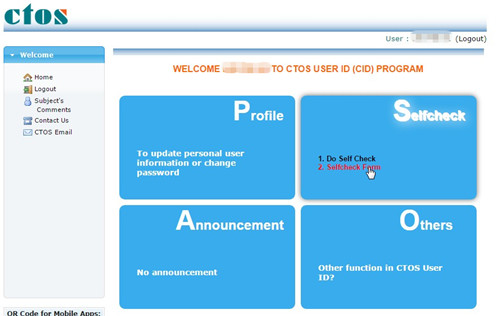 Hope it will help you to check your credit records before you apply any loan. To get the latest and accurate report, you are advice to check every 6 months.
Check on the CTOS site as well that the methods through which individuals can check their CTOS score has been updated for simplicity and a better user experience.
Refer to the below Youtube for the guide as well.