After 4 months of transferring of ownership, I collected The Ideal CEO key on GST implementation day, 1st April 2015. Since that day, I start to promote my unit for rent. I do not decide to do any renovation to my unit. I managed to rent out the unit on 29th April 2015 and signed a two years tenancy. Below are what I do to rent my unit out fast.
Promote Strategy 1:
I search my phone contact and look for past agent work with me before. There are about 100 Agents contact in my phone. I blasted out the messages for my unit details to all of these 100 agents.
Promote Strategy 2:
Search in other property listing on the internet such as www.propertyguru.com, www.iproperty.com and mudah.my which list for the similiar property. Aternatively, look for those agents list the property nearby as well. Send message to them for your details unit information. I had contacted about 50 additional agents with this strategy.
Promote Strategy 3:
Since above two strategy are depending on the agents help, we as a owner, we have to do our own works as well. Go to the following property listing site and list the unit details:
www.propertyguru.com
www.iproperty.com
www.mudah.my
You may add on if there is any other website.
Once you List it, you have to watch it daily. Analyze it how many people visit your advertisement everyday. Below is one of the example of the number of visit to my advertisement from mudah.my
It show that, for the past 24 hours there are about 10 -14 view my listing. If the number of views is low, you may want to optimized the following:
Title
Photo
Asking rental

Another point to take not is, after listing done, you cannot just leave it there. You will need to re-list it for next day. There are a lot of people like us out there using the same platform and same services to look for tenant as well. So we are competing with the mass market. In order for my listing to be on top and the first page, I will re-post it every day. Below is the example of my listing done every day until it was rent out. So I have to work hard to rent it out fast, otherwise, you will be draining your cash flow.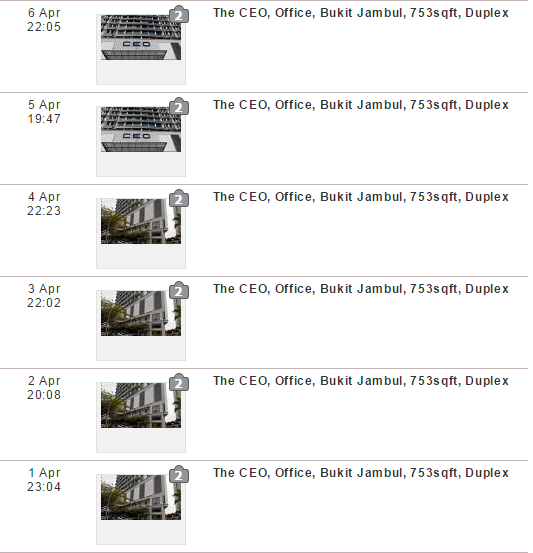 Promote Strategy 4:
Go to the management office and put up a notice in the notice board for your unit for rent. This will bypass the agent. Because some of the tenant do not want to pay the agent fees and tenant will go to the building notice board contact owner directly.
Promote Strategy 5:
Talk to the residents there who stay there full time. They also mix around frequently and able to look for tenant for you. This could be the most effective way as they are staying there and know in and out of most people there. These people could be the building guards, cleaners, handyman etc. Of course, if they managed to refer any tenant to me, i always pay them the same rate as the agent because they "work" for me. Do not ever ever underpaid them.
With above 5 strategies, this time, I successfully rented out through Strategy 5. With only 1 month vacant, it is consider a very good. My rule of thumb that cannot more than 2 months.
Do share with me if you have any other effective strategies to rent out property fast.