During these 2 days unit selections, i gather some more information with the other investor and below is the summary why this Maya Service suite is a good investment along Soh Bang Kheng road.
a) The business concept is placed in between High end Hotel and Low end Motel. High end hotel such as ICONIC and Holiday Inn is available at the Autocity area which provides full range of hotel service and facilities. Whereas the low end motel is only provide room only.
Hotel charging RM250 per night per room, MOtel charging RM80 to RM120 per room per night.For homestay with 2 room, easily can rent out with RM200 per night.
b) Motel around the BM area are like Red Hotel, U Hotel, Spice Hotel etc aroudn the BM area
c) The homestay business is on the rising trend in anywhere around the globe
d) If Holiday Inn and Iconic can build the hotel nearby, it means that the analysis already done and have confidence of doing the hotel business.Homestay jsut need to ride on their presence and will not goes wrong.
e) Homestay business in this area is not mainly for tourism, it is mainly cater for the social visit, corporate needs,medical tourism (KPJ Hospital) and business needs to the area such as Kulim, Bukit Tengah industrial, Seberang Prai, Batu Kawan (no hotel there,strange. No one have confidence in Batu Kawan yet?)
f) Doubt on the Guaranteed return? Will the Homestay operator make profit? For ease calculations for 2 room Homestay charge RM200 per night.
Say for a month has 4 weeks, each week rent out for 3 days/week only for single key (2 rooms) , let's compute the mathematics as below:
12 days / 30 days a month = only 40% occupancy rate used for calculations only.
1 month with 12 days occupancy = 12 days x RM 200
= RM2400
Guaranteed return given is RM1800 for the dual key a month is already exceed the single key calculations above.
As such, the homestay operator will guaranteed the rental from the investor, that is the rational behind.
Below is the latest sales chart after 2 days open for unit selections.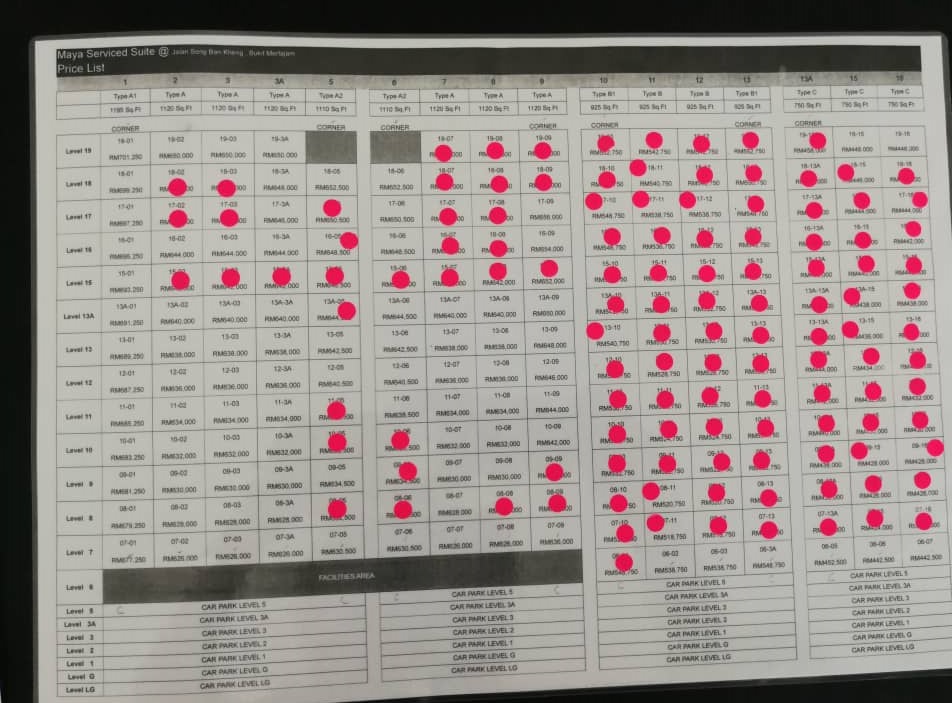 Anyone who like to understand more on the project, pls drop an email to us or fill up the group purchased form, we will get in touch with you at soonest.