Recently I learnt how to file tribunal claims for my newly hand over unit from developer. The unit is already over 36 months. On top of that, the common facilities also not available during hand over. As such, as a home buyer, I feel that this is not appropriate and want to look for the solution with developer.
After several researches, I think filing to the Tribunal claims will be more appropriate after failing negotiation with developer.
Since my unit is at Selangor state, and decide to file at the Putrajaya. In fact you can file in any where as long as there is Tribunal office.
Tribunal Perumahan Dan Pengurusan Strata
Tribunal For Housing adn Strata Management
Kementerian Kesejahteraan Bandar, Perumahan Dan Kerajaan Tempatan
Aras 3 & 4
No 51, Persiaran Perdana
Presint 4,
62100 Putrajaya
Head Office
Tribunal Perumahan Dan Pengurusan Starata (TPPS)
Kementerian Kesejahteraan Bandar, Perumahan Dan Kerajaan Tempatan.
Aras 3, No. 51, Presint 4, Persiaran Perdana, 62100 Putrajaya.
Below are the other offices located throughout Malaysia:
North Region
Aras 7, Zon B, Wisma Persekutuan,
Jalan Bertam, 13200 Kepala Batas, Seberang Prai Utara,
Pulau Pinang.
East Region
Tingkat 5 & 6, Bangunan Darul Takaful (MAIDAM),
Jalan Sultan Ismail, 20200 Kuala Terengganu,\
Terengganu.
South Region
Tingkat 20, Menara Ansar,
No 65, Jalan Trus, 80000 Johor Bharu,
Johor Darul Takzim
What are the documents need to bring?
Sales and Purchased Agreement – 1 copy
Vacant possession Letter – 1 copy
Attach all the letters & other docs to support your case which you deem necessary
Borang 1 – 4 copies
Where to get Borang 1 for Tribunal Home Claims?
You may Download the Borang 1 at below link:
You will need to print out 4 copies and duly complete it.
Click here to find out the Guide to fill in the form.
If your SPA is joint name, in the form, need to have 2 names and signed by both parties before submit it. Otherwise the form will not be able to submit over the counter and will be rejected. Imagine I am travelling from Penang and not able to submit it due to lack of one signature. All the effort will be wasted.
What is the cost of each filing?
You need to bring RM10 with you when submitting all documents over the counters. The officer will straight away give you the hearing date and time. Normally is 30 days from the date of filing.
Why do we need to fill up 4 copies of Borang 1?
When submitting the 4 copies of the Borang 1, the officer will keep 1 copy for the processing.
The officer will return you another 3 copies to address the following:
Send to developer
Send to mortgage bank
For owner keeping
That is the reason why there is a need to have 4 copies of Borang 1. Pls take note that For developer and Bank copy, need to send to them within 14 days from the date of submission.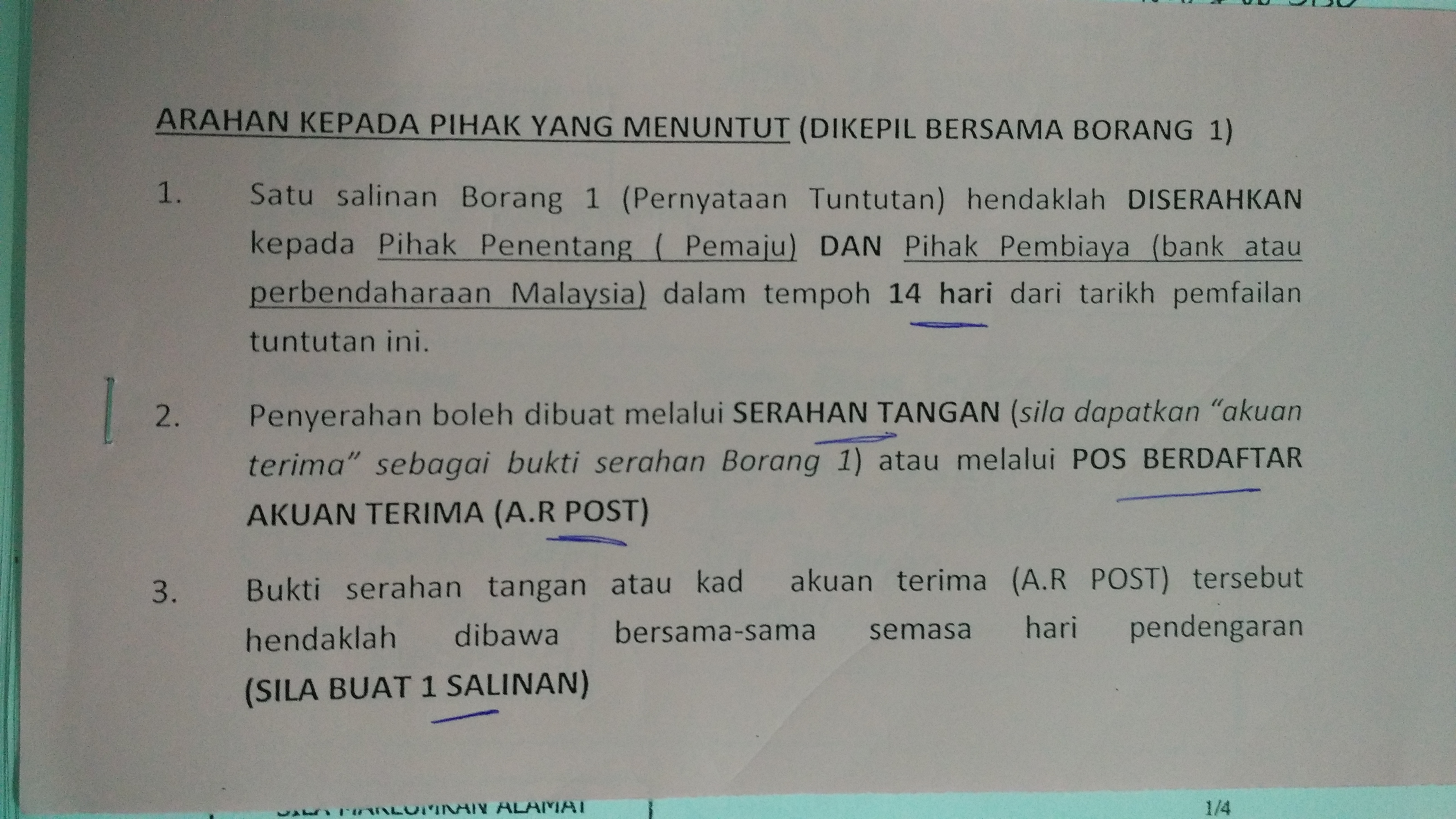 After the filing, I straight drive to Developer office and submit to them. At the same time, acknowledge on my copy as well. Then I also send another copy of Borang 1 to the bank. The bank officer also required to acknowledge on my copy as well.
For owner copy, need to present during the hearing.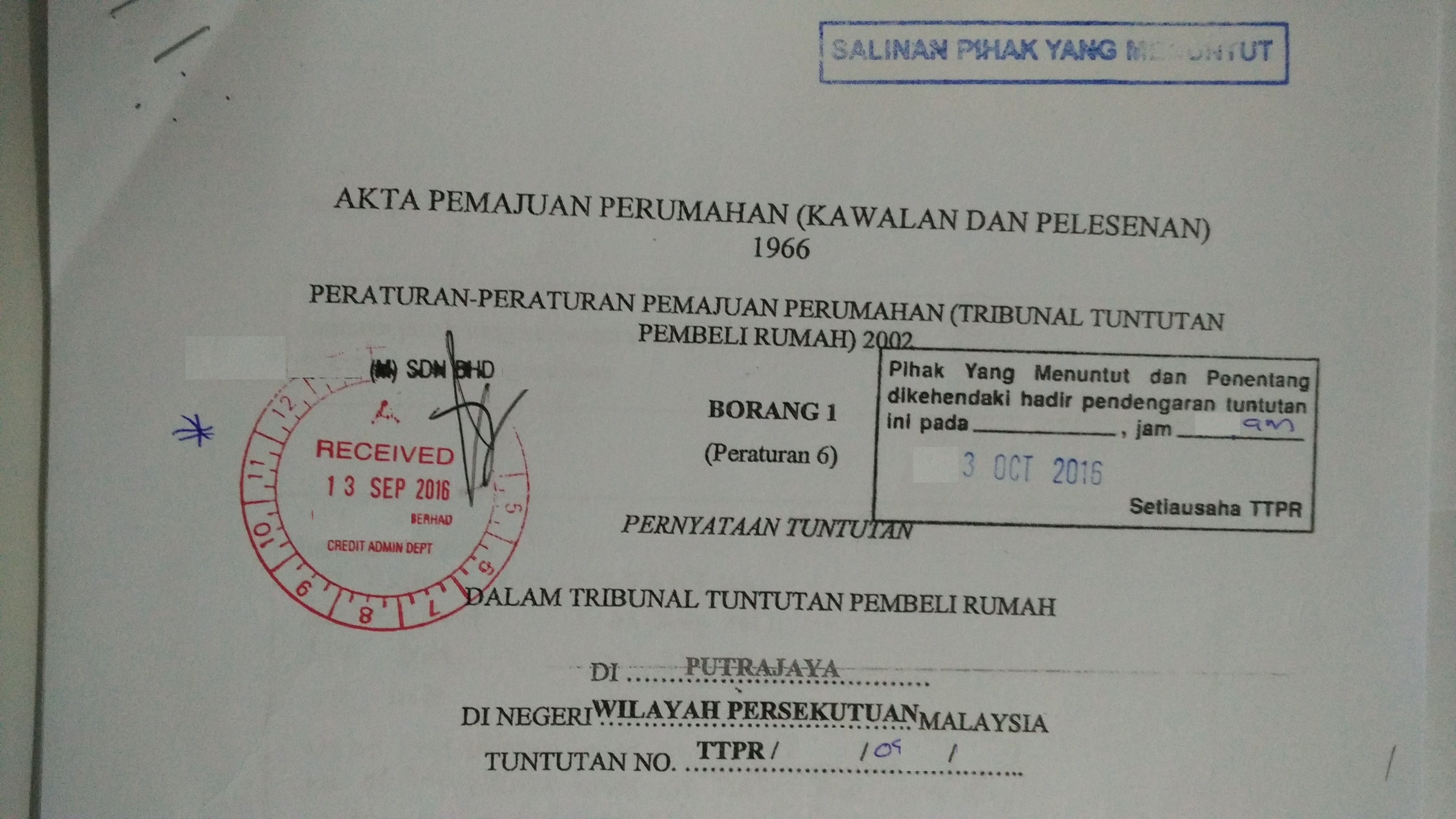 How to check the Tribunal Home claims hearing schedule online?
Please Click Here to check the hearing schedule.

You may request a copy of How to calculate the LAD Compensation by fill up below forms.