Last week, when I submit my home loan application, the bank required me to submit my EPF statement. I thought I need to walk in EPF office to get it but after I search around, I just discover I can get the EPF statement easily with few steps and few minutes only. Here I like to share the few ways.
1). Walk in EPF (KWSP) Office- Kois
You may walk in any EPF office and at the front office, there will have the Kois machine. Put in your IC (Identity card) and your thumb for verification, then choose the EPF statement option. The Kois machine will allow you to choose which year for the statement ( current and past one year only), then it will print out the statement for you. It just take about 1-2 minutes for the whole process.
To check the location of EPF ( KWSP) office nearby you, click here http://www.kwsp.gov.my/portal/reach-us/kiosks-location
2). Walk in RHB- Kois
If the EPF office located far away from you, another way to get the EPF statement by Kios is walk in the banks or AEON Credit Servic or AEON BIG shopping mall. The banks that do have the Kois machine will be RHB, Public Bank, HSBC, Maybank, OCBC, AmBank, CIMB, CitiBank, Hong Leong Mach, BSN, Bank Rakyat, . However, not all the branch of bank do have this Kois, please click here http://www.kwsp.gov.my/portal/reach-us/kiosks-location to check the location (Kios KWSP di Lokasi Lain)
3). Login i-Akuan online
If you are too busy to walk in any KWSP Kois machine, no worry! You still can get the EPF statement from home easily via online if you are the members of EPF.
Step 1: If you are the first time login, you need to call up EPF Call Centre at 03-89226000 to register and get the activation code. After EPF operators/ staffs verify your account by asking few questions via the phone, you will get an update via sms for the activation code.
Click here to check "How do I register for the i-Akaun?" http://www.kwsp.gov.my/portal/en/member/faq/i-akaun
Step 2: Then login https://secure.kwsp.gov.my/secured/member/login/ , click on "Pengaktifan i-Akaun (Login Kali Pertama)" then follow the steps and fill in the 6 digits activation code.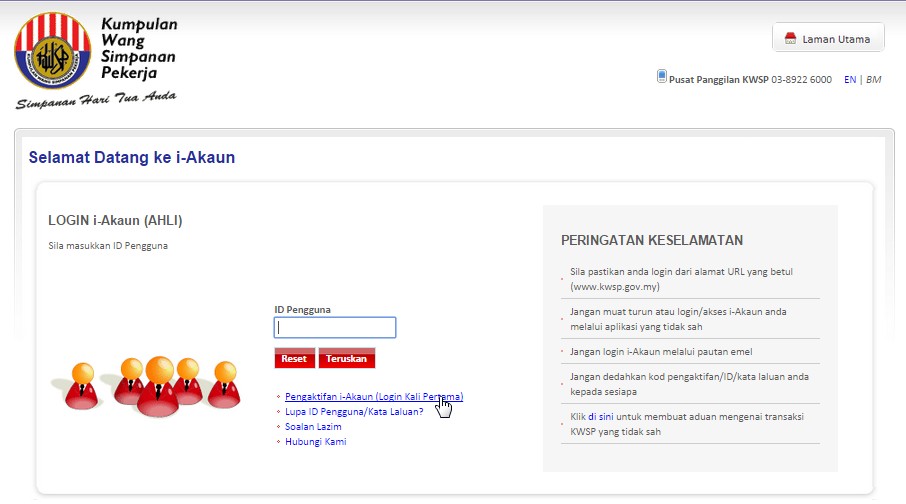 Step 3: Then, set up your ID Pengguna, password, choose "imej rahsia" and "Frasa rahsia" to complete the first time activation login.
Step 4: After complete the first time activation login, you can login the i-Akaun now. Click on "di sini" at "untuk melihat penyata anda"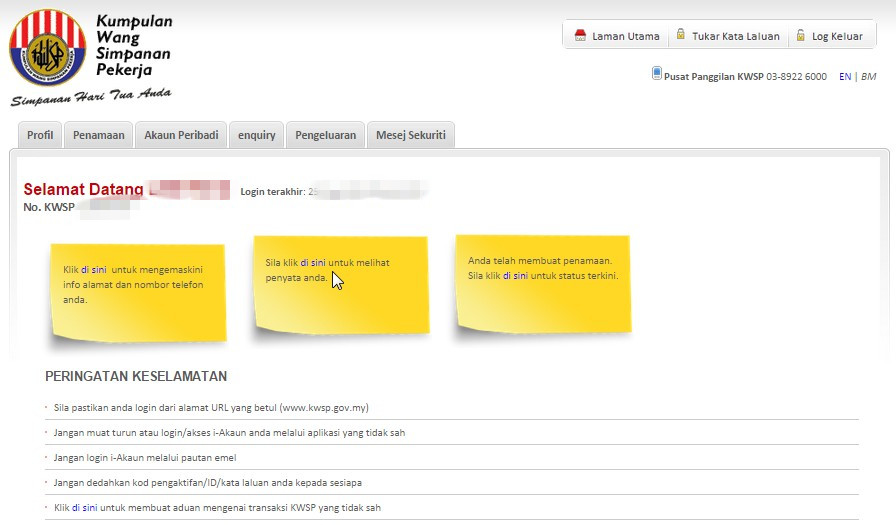 Step 5: Then choose which year of the statement you like to choose and click "Cari"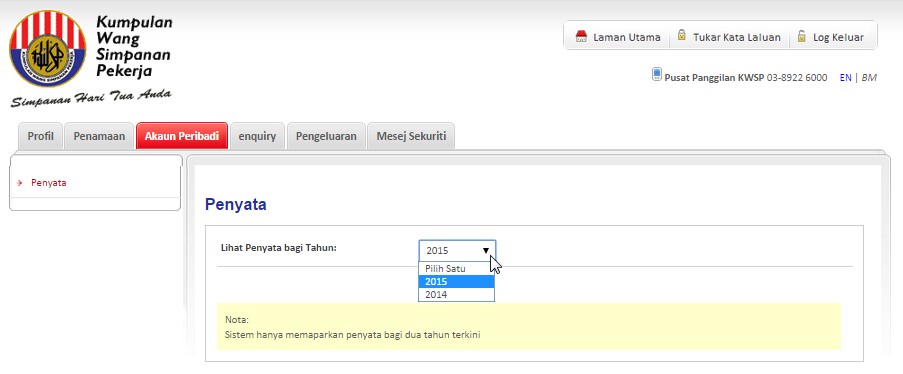 Step 6: Lastly, you will see the statement and if you like to print out/ save a copy. Scroll down to the bottom, you will find a button of "Cetak".
Hope that my sharing help you to save your time to get the EPF statement easily and wishing your home loan application is successfully!