Bandar Saujana Putra 21 is in the township of Bandar Saujana Putra, Puchong. It is another venture by LBS Bina Group. Previous project by LBS in that area is BSP Skypark.
Property Details:
Lot No: Lot 26102& lot 62610 (PT 22276)
Developer: LBS Bina Group
Land Area: 21.242 Acre
Title: Commercial
Tenure : Leasehold
Size : Range from 560 to 1340sf
Gross Development Value: Approximately RM1.2 billion
Land Tenure :Leasehold 99 years
Estimated Selling Price : Serviced Residence RM 274,900.00 to RM 733,900.00
Location of BSP 21: (Click for the Google Map)
Easy access on the Elite Highway and take the Exit 606.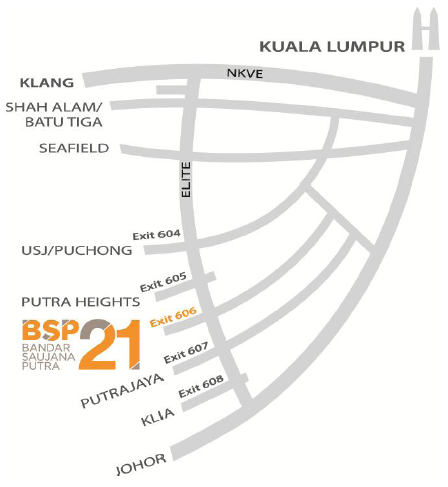 The other township distance to BSP 21 are tabulated as below:

Development Phases:
Total there will be 6 phases with 10 blocks of service suite.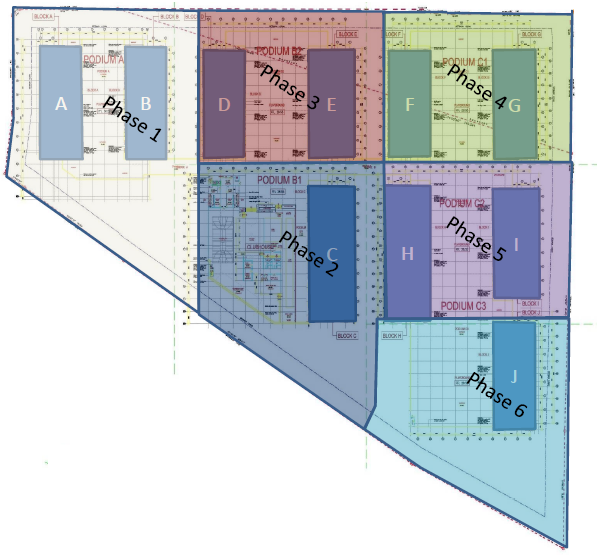 There are about 2656 units for the total of 10 Blocks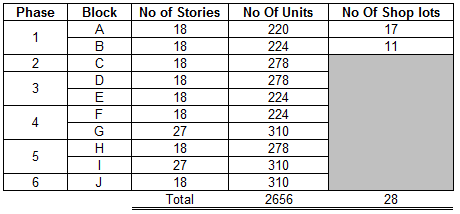 What are the Facilities at BSP 21?
There are a lot of facilities offered at BSP 21. There are as below:
PODIUM A
Foot Reflexology Path
Viewing Deck With Hammocks
Rocket Playground
Seated Trellis
Satellite Playground
Outdoor Silver Station
Fitness Station
Link Bridge
Jogging Track
Bicycle Track
PODIUM B
Foot Reflexology Path
Outdoor Silver Station
Castle Playground
Maze Garden
Seated Trellis
Link Bridge
Alfresco Café
Water Playpool
Children's Pool
Aqua Gymnasium
Jacuzzi
Family Pool
Main Pool
Lap Pool
Gazebo
Aerial Runway
Viewing Deck With Hammocks
Pool Deck
Outdoor Showers
Creative Inspiration Space
Jogging Track
icycle Track
PODIUM C
Foot Reflexology Path
Outdoor Gymnasium
Amphitheatre Garden
Outdoor Silver Station
Pirate Playground
Tree House Pavilion
Hammock Garden
Jogging Track
Bicycle Track
Nature Playground
Gazebo
Fitness Station
Chill- Out Corner
Aerobics Deck
Yoga Deck
Tai Chi Deck
Viewing Deck With Hammocks
Open Reading Nook
Aqua Reflexology
Water Garden
Indoor Playground
Link Bridge
SKY LEVEL
Inspiration Corners ( For Selected Floors Only) ALL ROOFTOPS
Outdoor Gymnasium
Aerobics Deck
Yoga Deck
Tai Chi Deck
Mini Playground
Rooftop BBQ
Community Gardens
CLUBHOUSE LEVEL 4,5,6,7
Laundry Room
Kids Putt-Putt Golf
Surau
Kindergarten
Child Care Centre
Carroms Corner
Table Tennis Corner
Snooker Corner
Darts Corner
Foosball Corner
Rock Climbing Wall
Indoor Silver Station
Imagination Room
Roller Skate Rink
Steam Room
Sauna
Outdoor Reading Nook
Wifi Zone
Changing Lounge
Locker Room
Dance Studio
Meditation Room
Indoor Gymnasium
Holding Room
Ballroom
Indoor Reading Nook
Outdoor Theatre
Mini Playground
Yoga Room
Viewing Deck
Community Meeting Room
GROUND FLOOR
Pocket Gardens
Futsal Court
Kids Futsal
Tennis Court
Basketball Court
Takraw Courts
Badminton Courts
Jogging Track
Skate Park
Target Market for BSP 21:
Who is the targeted market?
Investor / Entrepreneurs – Looking for long term investment
Young couple
1st Home Buyer (Freshie)
MAHSA University student
Analysis of BSP 21
1.Location and accessibility (accessible via major Expressway such as LDP, ELITE, KESAS, SKVE & MEX)
2.Nearby future Commercial Hub, MAHSA University & Private Hospital
3.More than 40% of overall development dedicated to facilities.
3.Over 70 facilities organized into multiple active and quiet zones
5.A 66,000 sq ft Clubhouse spread over 4 levels
6.Three Tier security system for absolute peace-of-mind
7.CCTV- monitored lift, podium lobby & car park with panic buttons
The Saujana Putra township is a relatively new area. The surrounding requires more time to be matured.
There is no schools nearby at the moment, road conditions is not up to standard and public transport services is not available. I strongly feel that when the township become more matured. All these amenities will be fixed by then. Currently what is hot now is the MRT. That will be the future way of commuting between your residential and work place in the city.
Detail due diligence required to compare the price among others condominium available in the vicinity. This article is not covering the price comparison at the moment.
Watch the show house unit video here.